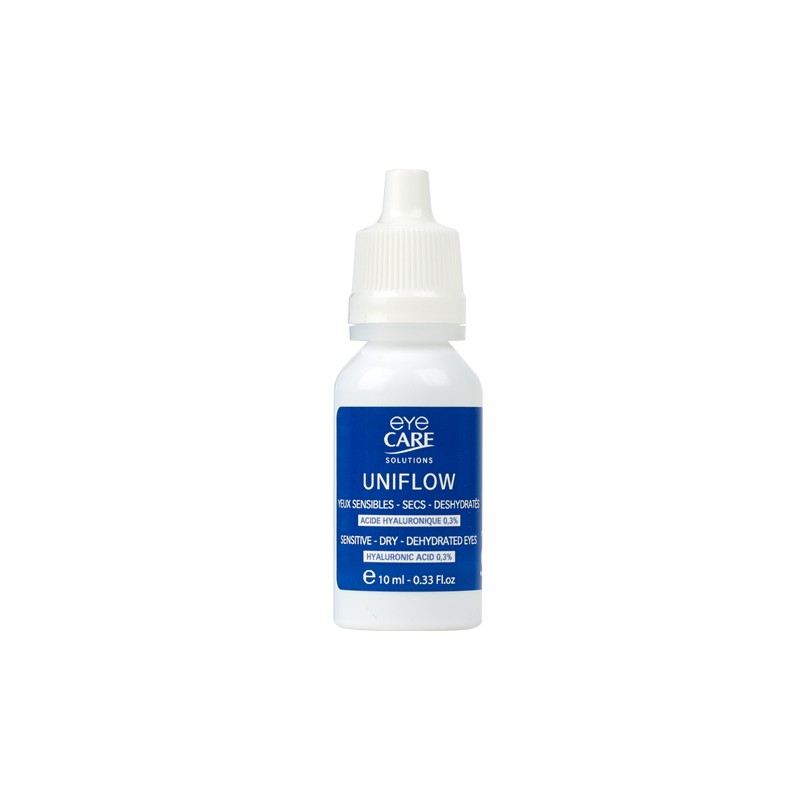  
Uniflow
HYDRATING AND LUBRIFICATING EYE DROPS
Sensitive – Dry – Dehydrated eyes
Hyaluronic Acid 0,3%
After a day working in front of a screen, our eyes tend to be more tired, irritated and drier. This hydrating and lubricating eye lotion moisturises, soothes and lubricates dry and dehydrated eyes. It calms sensations of tiredness and dryness in the ocular sphere not requiring medical treatment , as well as minor irritations caused by smoke, dust, air conditioning and more.
Enriched with 0,3% Hyaluronic Acid , it moisturizer and prevent dehydration of the ocular sphere and provides greater comfort to contact lens wearers.
This lotion improves the appearance of dry, red eyes. The eyes are more beautiful, sparkling and brighter.
Class IIB medical device. Free from benzalkonium chloride.
High tolerance formula recommended for sensitive and allergy-prone eyes.
Suitable for contact lens wearers.
Moisturises and soothes the ocular sphere
Lubricates to improve the comfort of contact lenses
Revives the eyes
High tolerance
Suitable for contact lenses
Squeeze 1 to 2 drops in the outer corner of each eye, several times a day. For contact lens wearers: squeeze 2 to 3 drops onto the lenses after applying them. If necessary, repeat the operation several times a day.
Sodium hyaluronate at 0.3%. Disodium EDTA, Polyhexamethylene Biguanide (PHMB), isotonic solution buffered at 7.2 pH. (UN01)
You might also like