Understanding intolerance is the heart of our job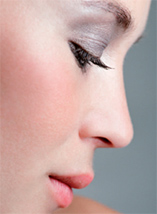 Ocular or periocular intolerance to cosmetics (even hypoallergenic products) affects more than one in two women, and with regards to skin intolerance two-thirds of women are affected.
Intolerance, unlike allergies identifiable by patch testing, is often linked to a natural predisposition (skin type, fragile eyes, lacrimal hyposecretion, age, or heredity) or to living conditions (stress, pollution, harmful products, hard water, diets, unhealthy eating habits, air conditioning, smoking etc) . 90% of reactions to eye or skin sensitivities are inconsistent and therefore difficult to treat.
With their expertise in skin-contactology, Laboratoires Contapharm discovered bio-inertia formulations, enabling them to reconcile tolerance and beauty effectively, going well beyond the traditional offer of hypoallergenic products.