How can you take care of your beauty when undergoing cancer treatment?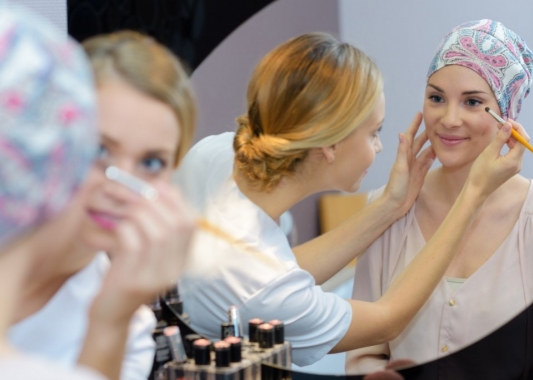 Cancer treatments can have side effects on your skin, hair and nails, such as a dull complexion, marked under-eye circles, dry lips and loss of eyelashes and eyebrows hairs. Nails are also significantly weakened and can easily peel off or become marked.
During cancer treatment, as a woman it is important to take care of yourself and your beauty in order to go through your cancer as best as possible and retain your femininity. In such cases, make-up can help you keep your self-confidence and maintain high self-esteem and a positive self-image, even during your treatment.
So how can you take care of your beauty when undergoing cancer treatment? Here are a few tips for beautiful make-up:
- First, apply a moisturising cream, which will act as a base for your make-up, as well as hydrating and nourishing your skin. Opt for Choose skincare that will brighten your skin, with illuminating micro-pearls, while moisturising it.
- Then apply a light foundation that respects your sensitive skin, the coverage of which should be chosen according to the blemishes you wish to cover up, in order to obtain an even complexion with no mask effect. Choose a shade suitable for your complexion and opt for a pinker tone for a more luminous result. Avoid overly yellow shades, which will accentuate dull complexions.
 - You can also perfect finish off your complexion with a touch of bronzing powder on your cheekbones, which will create a tanned effect, or of blush, for a healthy glow effect.
 - When your lashes become sparse, a pencil line can highlight the eyes and restore depth. Try not to choose an overly dark shade, so as not to harden the eyes. Avoid mascara, as it can overload the lashes and cause them to fall out. To prevent this, it is recommended that you use a lash growth activator, which will prolong how long your lashes' lastlifetime, help them remain rooted and activate regrowth. Products like this will also coat your lashes to enhance your eyes.
 - When it comes to lip make-up, it is important to choose a very moisturising lipstick so as not to accentuate their dryness. Avoid overly light, dark or matte lipsticks, which emphasise a dull complexion.
 - Finally, beautiful hands are important too! Choose a base coat enriched with silicon, which helps keep the nail attached to the nail bed and will prevent the appearance of marks caused by applying coloured nail polishes. This coat will act as a base for coloured nail polishes, which should have anti-UV protection, which is also enriched with silicon and urea to prevent nail loss and maintain their flexibility. Apply two layers of coloured nail polish. Finish with a top coat, which will make the polish last longer and prolong its shine. So as not to damage or dry out your nails, use an acetone-free nail polish remover enriched with plant oils.
 For make-up that cares for your treatment-weakened skin, it is important to avoid any products containing allergenic and potentially irritating components, which could exacerbate your sensitivity, and opt for High Tolerance make-up products suitable for sensitive skin and eyes.
Published : 11/29/2018