Finding the most suitable shade of foundation for my skin colour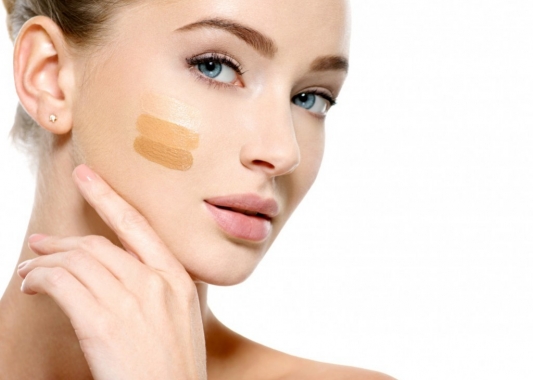 Beige, golden beige, rose beige…
What shade should I choose for my foundation? We have all asked ourselves this question without always finding an answer. Indeed, finding the right shade of foundation is not easy and you can easily make a mistake.
You want a foundation that doesn't look like a mask, make you look ill or leaves a line between your jaw and neck? Follow our advice to find the best shade that will match your skin tone perfectly for a very natural make-up finish.
My perfect shade
Gone are the days when we chose a foundation two shades darker than our complexion; nowadays we do not others to be able to tell we are wearing foundation.
The first step in choosing your foundation is to know your skin tone (fair, medium, dark) and its undertone (golden, pink, neutral). This will help you choose the best shade for your foundation.
-          For warm golden undertones, choose golden foundations (for example golden beige) with a shade intensity to suit your skin tone (light beige, beige, dark beige, etc.).
-          Purple or blue undertones are cooler tones. In this case, choose pink tones (such as Rose Beige, for example) to give your complexion more warmth and radiance.
-          For neutral undertones, you should choose a more neutral beige, such as Beige.
You can also tailor the shade to the season and switch to a more golden shade in summer plus use a product with lighter coverage.
For black skin, dark shades based on red will give radiance to your complexion without it appearing dull or greyish.
Before making your final choice, it is always good to test the shade on your skin whenever possible. To try the shade of your foundation apply it to the base of your jaw, by your neck, wait a few minutes for it to absorb to see the final result. It should be as close as possible to your natural complexion.
To look a little more "tanned"
And if you want your complexion to look tanned, instead of going for a darker shade apply a touch of bronzing powder to your temples, cheekbones and jaw, which will give you a warmer complexion.
For a healthy glow, you can also use blusher to add a touch of brightness. Pink tones are perfect for light complexions to give them a very natural fresh look.
Browner golden tones are used for sculpting the face of olive complexions.
Orange tones are suitable for all skins but the intensity of the shade should be chosen based on your skin colour. If you have fair skin, choose a softer orange shade.
Now you know how to choose the shade of your foundation, all you have to do is choose the texture that best suits your needs.
Published : 12/27/2018